Quang Binh works hard to preserve wild, migratory bird populations
The People's Committee of the central province of Quang Binh has issued directives to enhance the management and conservation of wild and migratory bird populations, with the aim of minimising poaching, trafficking, and consumption activities in the locality.
Heads of relevant departments, sectors, agencies, and organisations, and chairpersons of the People's Committees of Dong Hoi city, and districts and towns have been demanded to instruct their civil servants and employees to strictly adhere to and disseminate legal regulations regarding biodiversity and wild bird conservation.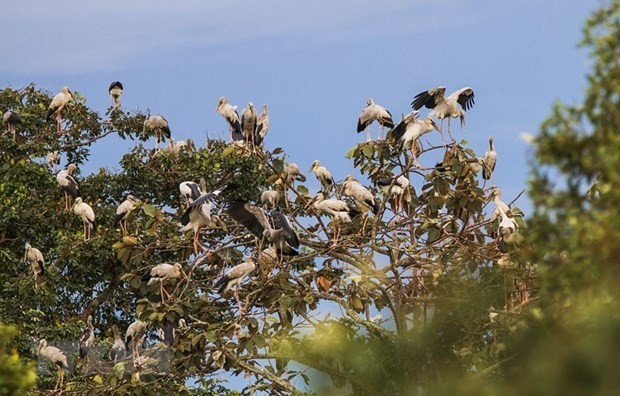 Illustrative image (Photo: VNA)
The provincial Department of Agriculture and Rural Development has been requested to collaborate with the Departments of Natural Resources and Environment, and Industry and Trade, the Customs Office, the Border Guard Command, and the police of the province to regularly inspect and supervise restaurants, businesses, and markets, and strictly handle any activities involving the poaching, trapping, slaughtering, transporting, trading, processing, or keeping of wild and migratory birds.
Relevant authorities will be responsible for monitoring and implementing measures to prevent diseases originating from wild and migratory birds.
Local authorities have conducted nearly 450 inspections, destroyed numerous nets and devices used for bird trapping, and released 127 live decoy birds back into their natural habitat.
However, the apprehension and prosecution of those involved in the evil in the locality have encountered significant difficulties and limitations.
Quang Binh is one of the regions recognised for its high biodiversity. Notably, the Phong Nha - Ke Bang National Park - a UNESCO World Natural Heritage, and the Dong Chau - Khe Nuoc Trong Nature Reserve stand out as remarkable examples of this biodiversity. These areas, in particular, are known for their exceptionally rich diversity of bird species.
As home to 303 bird species, including 11 listed in the Vietnam Red Data Book and another 11 in the IUCN Red List of Threatened Species, the Phong Nha- Ke Bang National Park was identified as two of more than 60 important bird zones in Vietnam by BirdLife International in 2005.
Source: VNA
Source:https://ven.congthuong.vn/quang-binh-works-hard-to-preserve-wild-migratory-bird-populations-49058.html
Copy link