Coffee export struggles to exceed $4 bln this year
Coffee export activities are expected to remain positive this year, but it will be difficult to achieve the target turnover of more than US$4 billion for the second year.
Coffee output is predicted to decline by 10-15 per cent this year due to weather conditions. Yet because demand exceeds supply, coffee exports have the potential to increase from now through the end of the year.
In early September, the Ministry of Agriculture and Rural Development expected that Việt Nam would export about 1.72 million tonnes of coffee this year, earning $4.2 billion. 2022 was the first time Việt Nam recorded coffee export turnover surpassing $4 billion.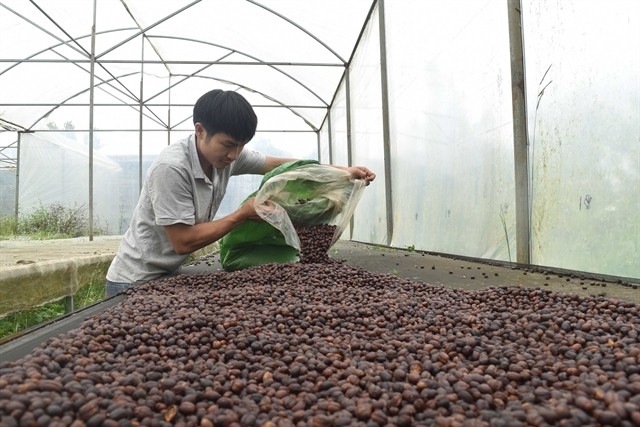 A farmer processing coffee beans in Đắk Nông Province. — VNA/VNS Photo
However, the ability to maintain a high export value in the long term is uncertain, said the Mercantile Exchange of Việt Nam (MXV), citing statistics of coffee export activities in the last two years.
The main factor helping coffee export turnover exceed $4 billion in 2023 is rising prices amid the shortage of supply, MXV added.
Challenges arise
There are less than three months left for Việt Nam to achieve the coffee export target in 2023, but challenges are arising from both supply and demand sides.
Việt Nam's average coffee export price reached $3,151 per tonne in September, up 3.2 per cent from the previous month and 29.6 per cent from September 2022.
As of September 30, the country's average coffee export price is expected to reach $2.5 per tonne, a 9.9 per cent increase over the same period last year.
The volume of coffee exported from Việt Nam is slowing down, while there is still a long way to go before it reaches the $4.2 million export turnover goal.
In the first nine months of the year, Việt Nam's coffee export was more than 1.25 million tonnes with a value of over $3.1 billion, according to official data from the General Department of Customs, down 8.3 per cent year-on-year in volume and up only 0.7 per cent in value.
In August and the first eight months of the year, Excelsa and processed coffee exports climbed, while Robusta and Arabica coffee exports fell against the same period in 2022.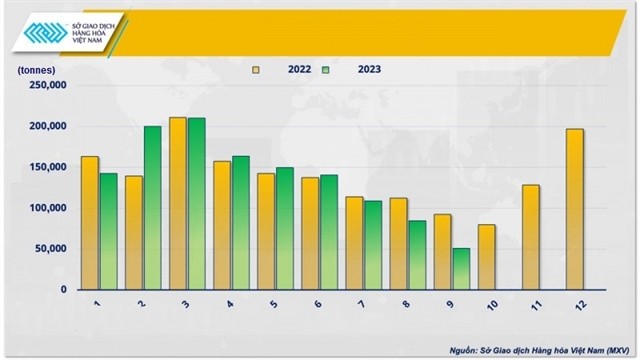 Việt Nam's coffee exports in 2022 - 23. Source: MXV
Historical data compiled by MXV showed that by November, the amount of coffee exported from Việt Nam could improve when harvesting activities are concentrated and new supplies are available.
Meanwhile, the demand for Robusta coffee, Việt Nam's strong product, has also gradually slowed down compared to the beginning of the year.
The global economy is improving from the gloomy picture at the end of 2022 and early 2023, causing consumers in the US and European Union (EU) to return to prioritising the use of Arabica coffee.
The expected figures were calculated based on the scenario that Robusta prices in general and Vietnamese domestic coffee prices are at record highs. However, more optimistic sentiment about the current market supply and weaker demand for Robusta make coffee prices not as positive as they were at the time of the forecast.
Robusta price on the Intercontinental Exchange Futures Europe (ICE - EU) at $2,632 per tonne on October 24, a decline of 10.2 per cent from the 15-year high of $2,930 per tonne set in mid-June. Meanwhile, coffee prices on the domestic market also witnessed a fall of about VNĐ5,000 per kg from the peak in September to VNĐ63,700 per kg.
Source: VNS
Source:https://ven.congthuong.vn/coffee-export-struggles-to-exceed-4-bln-this-year-49060.html
Copy link